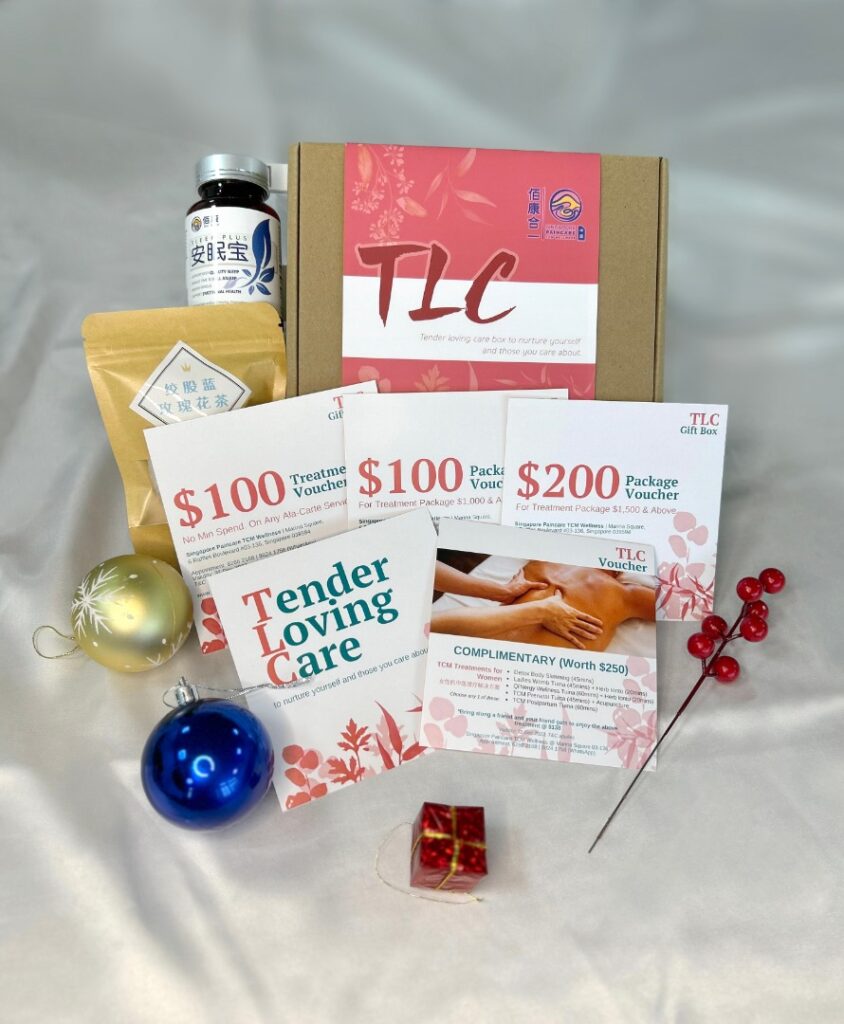 Women wear many hats: mothers, daughters, workers and more. We shoulder so many responsibilities that we forget to look after ourselves.  However, a woman's body is a sacred temple – it needs constant nourishment and care. As women, we deserve the same unconditional love and attention that we give to others. We deserve to look and feel good at every stage of our lives.
"With TLC Gift Box, you can get MORE for LESS"
In this coming festive season, Singapore Paincare TCM Wellness has put together a TLC Gift Box specially dedicated to women. With up to 80% discount, you get to pamper yourself with treatments ranging from complimentary detox slimming, prenatal or postpartum care to health supplements and treatment vouchers! Not only will you achieve optimal health, but our gift box is also suitable as a present to empower other women in your life!
With our TLC gift box, you can get MORE for LESS – a great value that is not to be missed.  Unwrap the gift box to experience a variety of TCM services and products at just ¼ of their total value price!

How TCM Helps to Resolve Common Women's Health Issues?
A woman's body often changes as she faces fluctuating hormones, pregnancy, childbirth, and the natural ageing process – and these are changes that only women experience.
For girls transiting into womanhood, we may experience PMS symptoms ranging from mood swings, bloating, to menstrual pain that can affect our daily activities. As for mothers, we struggle to regain control over our bodies after pregnancy, battling with confidence as we experience body changes like weight gain, weakened abdominal muscles, fatigue, aches and pains.
This Christmas, it's time for you to start listening to your bodies and prioritising your health. One solution that you should consider is TCM.
Why TCM for women's health?
"TCM is an effective, safe, and natural way to improve women's health."
We focus on improving the qi and blood flow to restore the yin and yang balance in the body, which alleviates women's pain and other symptoms. TCM involves minimally invasive therapeutic treatments like acupuncture, tuina, and herbal prescription. At Singapore Paincare, our unique treatment approach combines TCM with western medical perspectives to create an effective solution to your problems. In fact, the process will be relaxing, ensuring a stress-relieving experience that revitalises both the body and mind.
What will you get from "TLC Gift Box – The Ladies' Care"?
Our TLC – The Ladies' Care box consists of an array of TCM services which you can choose from to address your health issues:
1. Qi'Nergy Detox Slimming
Physician consultation + Detox Tuina (45mins)
Best For: Women looking to manage their weight for a better physique. This will give women a healthier body, a happier mind, and greater confidence. This is especially useful for new mothers who wish to get rid of their postpartum bellies and stretch marks before the festive season.
What to expect: This treatment involves the application of pressure on the body using a large Ganjin stick targeted at different parts of the body. Techniques that mimick guasha strokes, and are applied on the stomach, spleen and kidneys, back, thighs, buttock to stimulate blood and lymphatic circulation. This helps to remove excess water and toxins from the body, aid digestion, increase body metabolism and promote organ health.
2. Qi'Nergy Ladies Womb Care + Herb Ionophoresis
Physician consultation + Qi'Nergy Womb Tuina (45mins) + Herb Ionophoresis (20mins)
Best for: Women with gynaecological problems such as menstrual pain and irregular menstrual cycle. This is also suitable for older women hoping to relieve menopausal symptoms.
What to expect: Our experienced physician will assess your condition and create a targeted treatment plan. Our tuina treatment includes acupressure on acupoints of meridians to stimulate blood flow, which helps to relieve menstrual cramps and regulate your menstrual cycle.
Herb iontophoresis is a foot soak treatment that uses an electric current to stimulate herb absorption through the skin. With specific herbs targeted to your needs, this treatment maximises the restoration of energy and blood circulation, prompting uterus tissue repair.
3.Qi'Nergy Tuina + Herb Ionophoresis
Physician consultation + Qi'Nergy Tuina (60mins) + Herb Ionophoresis (20mins)
Best for: Women who wish for full body pain relief and an overall improvement in their wellness.
What to expect:  Experience our signature Qi'Nergy Tuina which combines TCM techniques with western technologies to deliver greater efficacy. The combination of acupressure, myofascial release massage, and other physical therapy strokes along the identified acupoints will stimulate blood and qi flow, relieving muscle aches and tension. Additionally, the use of radiofrequency energy helps to reduce inflammation and stimulate tissue regeneration, improving overall body health.
4.TCM Prenatal Care (45min) + Acupuncture
Physical consultation + Qi'Nergy Tuina (45mins)
Best for: Pregnant women looking to relieve pregnancy pain, nourish the body for the foetus, and to prepare for childbirth.
What to expect: Our Tuina services will regulate the flow of qi and blood that were disrupted by hormonal fluctuations. By restoring a balanced flow of energy, you can:
Regulate hormone levels to improve mood swings
Increase blood flow to nourish the body and foetus
Relieve leg cramps and back pain
Increase lymph flow to strengthen immunity
5. TCM Postpartum Care
Physical consultation + Qi'Nergy Tuina (60mins)
Best for: New mothers looking to bounce back to their pre-pregnancy body and restore their health.
 What to expect: A 60 minutes Tuina session that will improve the flow of qi within the body and remove any blockages and stimulate uterus contraction. It helps to:
Reduce swelling by draining excess fluids
Protect the body from "external evils" such as coldness, dampness, and wind
Improve mood fluctuations
Stimulate repair and revitalisation of the womb
Optional: To maximise recovery, a High Energy Focused Electromagnetic Wave (HI-EMT) is used to stimulate muscle contractions. This non-invasive process will strengthen the abdominal and pelvic muscles, which helps to rectify postpartum problems like Diastasis Recti (separation of abdominal muscles) and Pelvic Floor disorder respectively. Consequently, this reduces the post-pregnancy bulge, restoring the pre-pregnancy figure.
Besides our signature services, our value gift box will put a smile on your face with other complimentary products and vouchers including:
Fiveleaf Gynostemma Rose Tea
Gynostemma is a herbal tonic and antioxidant that lowers blood pressure, relieves bowels, detoxifies the body and increases the metabolism of fats.
 Brew a nice cup of rose tea after attending one of our TCM services to maximise your self-care day! 
TCM Supplements
To further boost your overall well-being, you get to have one out of the 3 types of supplements (up to $68):
Brain Power Plus: Formulated with Chinese herbs, vitamin E, and other nutrients, this product keeps you cognitively agile, hence optimising your brain health and energy levels.
Sleep Plus: The combination of natural herbs and lemon balm is a blessing for those who struggle with insomnia. Take this twice a day to guarantee a good night's sleep.
Immune Plus: Includes carefully harvested and processed herbs to support normal immune cell function. This will strengthen your immune system to better fight against diseases.
$100 voucher for ala carte services
Should you wish to go for another of our signature services or other wellness services like guasha or cupping, you get to enjoy $100 off for any ala carte services.
Package vouchers
However, if you desire more than one service, you have 2 more vouchers to offset any service packages:
$100 package voucher (for packages $1000 and above)
$200 Package Voucher (for packages $1500 and above)
Pricing
From now till 8 January 2023, you can get your very own TLC Gift Box for a promotional price of $188, up to 80% savings!
Share the love by buying for your friends! For 2 or more purchases, you can get $10 off for each box.
Early Bird Special:
From 1 December to 11 December, the first 50 customers can enjoy an early bird discount:
1 box – $178 ($10 off)
2 boxes – $336 ($40 off)
5 boxes – $790 ($150 off)
How To Purchase?
There are 2 ways to purchase our TLC gift box:
Walk-in purchase @ Singapore Paincare TCM Wellness clinic located at:
6 Raffles Boulevard #03-134-136, Marina Square, Singapore 039594.
Order through call 6266 2168 / WhatsApp 9824 1758 & PayNow to UEN202137932M
Why Singapore Paincare TCM Wellness?
Singapore Paincare TCM Wellness is the TCM arm of Singapore Paincare Holdings, a medical group focusing on pain management. We provide a comprehensive suite of TCM pain relief and wellness services at our Marina Square flagship centre. Our unique hybrid treatment approach incorporates both TCM and Western treatment perspectives to achieve good results when managing pain and other ailments.
Our physicians and therapists have undergone training by Western pain management specialists under Singapore Paincare Academy. Hence, they are well-equipped to assess and prioritise your needs to customise a targeted treatment plan.