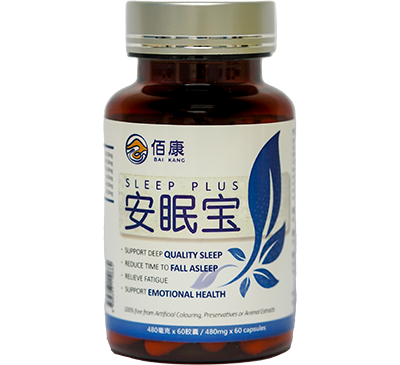 SLEEP PLUS 
安眠宝
$38
Sleep is essential for a healthy life. Bai Kang Sleep Plus is an excellent sleep aid formulated with natural herbs and lemon balm (Melissa officinalis). It helps you live a healthier lifestyle and improve the quality of your sleep.
Content:
60 capsules
Ingredients:
Semen Ziziphi Spinosae Praeparata 163.00mg, Poria 107.00mg, Rhizoma Anemarrhenae 82.00mg, Rhizoma Chuanxiong 54.00mg, Melissa Officinalis Extract 46.00mg, Radix Et Rhizoma Glycyrrhizae 28.00mg
Suggested use:
Twice a day, 2 capsules each time or as recommended by the physician.
Get the appropriate Pain Care.
Make an appointment with us today.